Making your Pond Shine with Water Garden Lights
If you're looking for an easy way to add some night time ambiance to your pond or water garden, lights are a great way to do it. Creative lighting has a way of transforming a dark and scary place into an inviting, almost magical setting that brings with it a sense of security at night.
By using properly placed pond and water garden lights, you can highlight certain areas of your pond like fish, plants, paths or other areas surrounding your pond.
Electricity and Water
Because water and electricity don't mix that well, when purchasing any pond light, be sure to purchase one that runs on 12 volts like the LED lights above, and is therefore safe for running in or near water. If an accident does happen and the electricity is exposed to your pond water, the lower voltage will help against any serious electrocution of people, fish or animals close to your pond. In order to lower the Voltage from a standard household electrical outlet to 12 Volts, you will need to purchase a 12 Volt transformer to power any light that may be exposed to water or rain. All our lighting kits include a transformer to convert to 12V.
When it comes to wattage, generally water garden lights are available with either 10 or 20 Watt bulbs, or in energy efficient LED lights. 10 Watt bulbs are good for small ponds, or for lighting smaller features, and 20 Watt bulbs are naturally brighter for larger ponds, or just for a brighter look.
LED or Halogen?
When being used as a pond or water garden light, either Halogen or LED will work. Halogen lights are usually cheaper to purchase, but will burn out faster (typically 1 to 2 years), and will use more electricity to operate. LED Lights on the other hand might cost more up front, but are more energy efficient, will last longer and will run cooler. LED lights are becoming a better deal every year, so if you can get your hands on some for a good price, go for it.
An LED Submersible Light
When it comes to choosing lights for your pond, there are essentially three different types that you can use.
Submersible Pond Lights
As you might have guessed, a submersible water garden light is designed for placement beneath the water of your pond. Much like a pool light, submersible pond lights have a way of giving the water a nice glowing ambiance. If you have fish in your pond, lights are an excellent way to accent the many colors and varieties of your fish collection.
LED Floating Pond Lights
Floating Water Garden Lights
For a nice effect at night, you could add some floating lights. There are many different kinds available from special effect lights that change color gradually, to more traditional lantern style lights. Whatever style you choose, we would recommend getting any floating pond lights as solar powered lights so there are no cords or strings attached!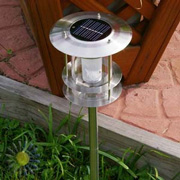 A Solar Landscape Light
Pond Landscape Lighting
Landscape lighting is the third type of lighting you might use around your pond. This type of lighting is usually used to accent certain plants or features around your pond. If you have a waterfall in your pond, a nice effect is to shine a light on the falling water to give it a shimmering effect. If you have any paths around your pond, it's always a good idea to make sure your path is well lit for easy walking. Much like floating water garden lights, many landscape lights are also available as solar lights so no wiring or electricity is needed.
Click Here to Return from Water Garden Lights to our Home Page