Pond Kits for Every Type of Pond
We know it can be confusing trying to sort through all the various types of pond equipment available. All our pond kits are designed to make choosing and purchasing pond equipment as painless as possible. Each piece of equipment in the kit has been hand picked by a pond expert specifically for the size of pond you want to build.
Here at Everything Ponds we have a few different types of pond kits available representing the ponds we see the most. Wanting to build a natural style pond, complete with rocks, natural landscaping and a waterfall? Check out our Natural Ecosystem Pond Kit below. Wanting to build a formal style pond instead with clean lines and an obvious symmetry? Have a look at our Formal Pond Kits.
Everything Ponds Kits - 3 Types Available
The basic goal behind a natural style ecosystem pond is to take an otherwise closed body of water and turn it into it's own thriving mini 'ecosystem'. In nature, streams and rivers and the resulting pools of water along the way are constantly renewed with fresh, clean water allowing them to support life, while flushing toxins away down the stream. Unless you are lucky enough to be blessed with a natural stream or source of water on your property, you won't have the luxury of a naturally renewing stream. You will have to find another way to keep your pond water clean and free of toxins. This is actually easier than you might think, and is accomplished through proper planning and the selection of appropriate filtration equipment. With any of our ecosystem pond kits, we take the guess work out of equipment selection, giving you exactly what you need to create a thriving ecosystem pond.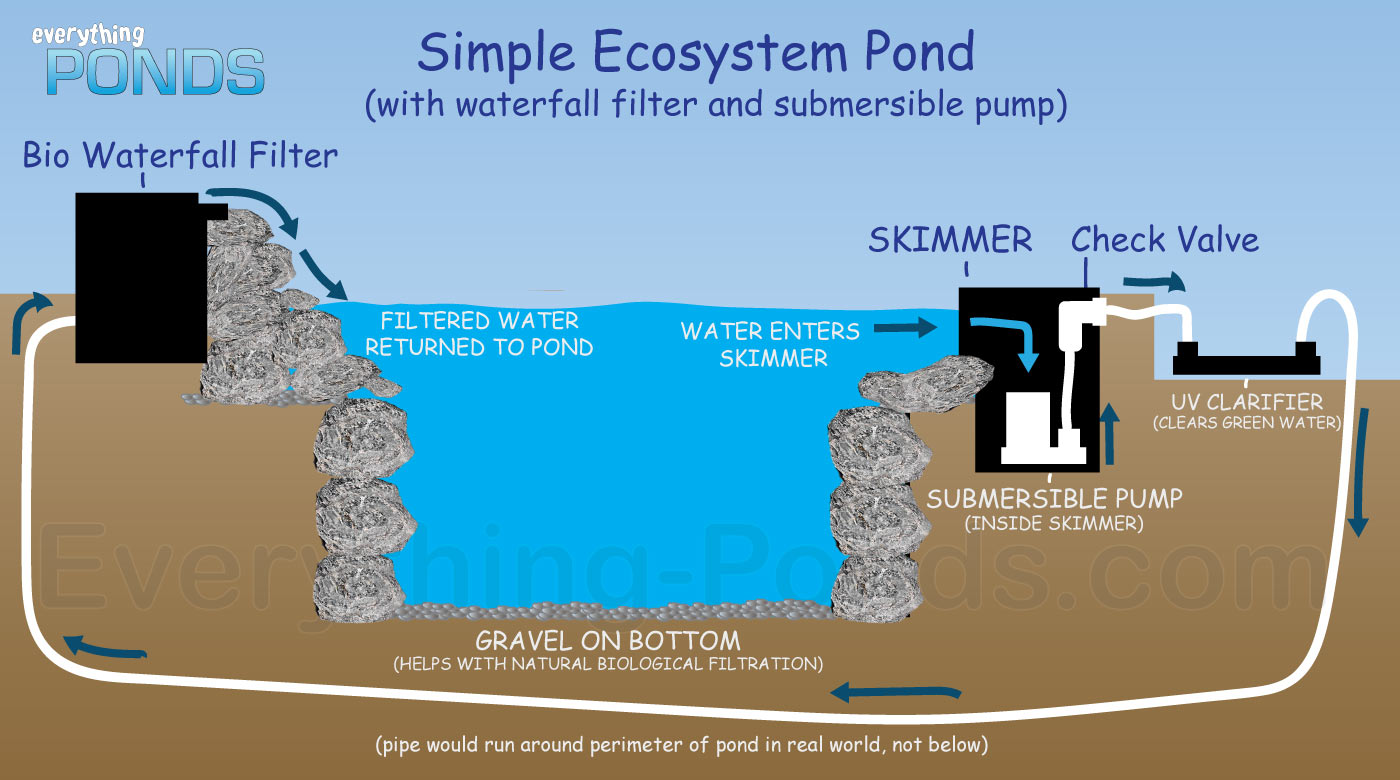 Other than a liner, an Everything Ponds Formal Pond Kit contains everything you need to build a healthy, ecosystem-based formal pond. What is a formal pond? Formal style ponds and water gardens are usually more "formal" in regard to shape, uniformity and size. The goal isn't to make the pond look natural, but to create a water feature with clean lines and an obvious symmetry. The Everything Ponds formal kits includes an Atlantic Colorfalls waterfall unit. When installed into brick or block wall, the Colorfalls creates a very clean and neat waterfall feature which complements the overall look of the formal pond nicely.
3) Bottom-Drained Koi Pond Kits
Other than a liner, an Everything Ponds Bottom-Drained KoiPond Kit contains everything you need to build a professional koi pond.These ponds typically have a different goal than either of the two kits mentioned avove - they are treated more like koi "pools" or koi "homes" meant to house a good number of expensive koi. This is in contrast to an ecosystem pond, where the goal is to create a natural-style pond that can survive as it's own mini-ecosystem to support life in the pond. Ecosystem ponds can easily support koi and goldfish as well, but generally will have lower numbers of koi than a dedicated koi pond. Are you the type of person that might spend $1000 or more on a single koi? Then you're also the type of person who is likely to install a full bottom drain system in your koi pond. Spending $50 per fish instead? Then an ecosystem pond kit discussed earlier on this page is likely all you'll need.
Click Here to Return from Everything Ponds Pond Kits to our Home Page